5 Great T-Ball Gloves for Toddlers and Young Kids
How exciting for your child when they can start to take part in America's pastime – baseball! Kids start playing t ball as young as 4 years old, so their equipment needs to be right for them. We're here to help you find the perfect youth or toddler t ball glove.
What is the difference between a t ball glove and a baseball or softball glove?
The most obvious difference is that it's for smaller hands, so a t ball glove is smaller than a baseball or softball glove. Take a look at the Rawlings baseball, softball and t ball glove sizing chart: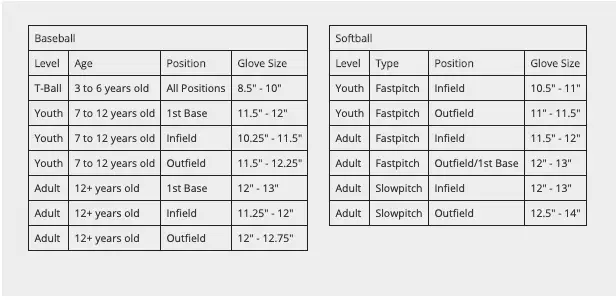 Baseball and softball gloves are made of higher-quality leather. They are stiff when new so they need to be conditioned with oil and broken in to be the best they can be.
T ball mitts on the other hand are made of softer, more pliable materials, to make it easier to use for 4 or 5-year-old kids' smaller hands. Some T Ball mitts need some breaking in too, but not nearly as much as a quality leather baseball glove.
A tee ball is not as hard as a baseball, another reason softer materials are better for t ball gloves. Since they are not a high-quality leather they are also less expensive, a nice bonus for the parents. Once the kids get older and start playing baseball or softball you can spring for a higher-quality leather glove that will last for years.
Our Tee Ball Glove Review
As a father who loves baseball with a daughter who played and loved T ball I already had some experience before I set out to create this post. My daughter is a little older now, but my neighborhood is filled with little kids at just the right age. The t ball mitts I suggest here are based on discussions with those kids and their parents, and the result of getting out there to throw the ball around with the kids which was a lot of fun.
Confession: I miss having little kids! Not only do I miss playing the fun games, but I miss some of the great kid tv shows. My kids are too cool for that now. Sure I can watch them myself, but that would just be weird, right?
But I digress. To continue, I also wanted to be sure that any glove I recommend is available on Amazon. I want to be sure you can get the right t ball glove for your child no matter what might be available in your local stores.
So cutting to the chase, here are 5 great t ball gloves for toddlers and young children that will make your child's introduction to this great game a success.
Franklin Sports Teeball Recreational Series Fielding Glove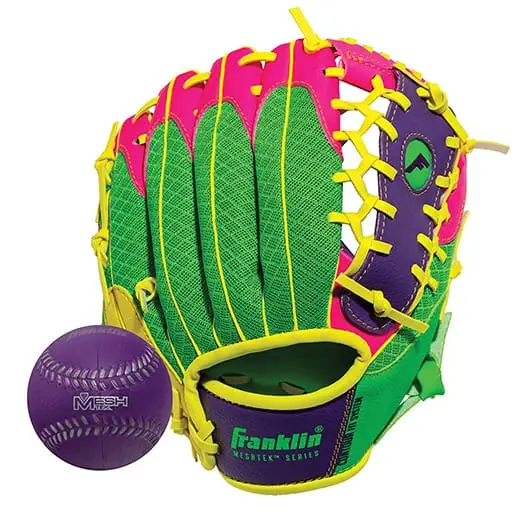 Not only is the Franklin Recreational Series T Ball Glove great in terms of material, construction, and comfort, but hey it looks pretty cool too! This colorful design makes it great for boys and girls alike, but it also comes in other colors.
Unlike many tee ball gloves available, this one comes in both left and right-handed versions. We like that a lot. Options for a left-handed child can be relatively few but you can't go wrong with the Franklin Recreation Series.
This mitt is an Amazon's Choice and bestseller for a reason, and it's our top choice.
Why it's Great:
Light, comfortable, and pliable for beginner players
9.5 inches – Good t ball glove for toddlers
Comes in right or left-hand throw
Cool design that kids will love
Includes a purple tee ball
Rawlings Players Series Youth T-Ball Glove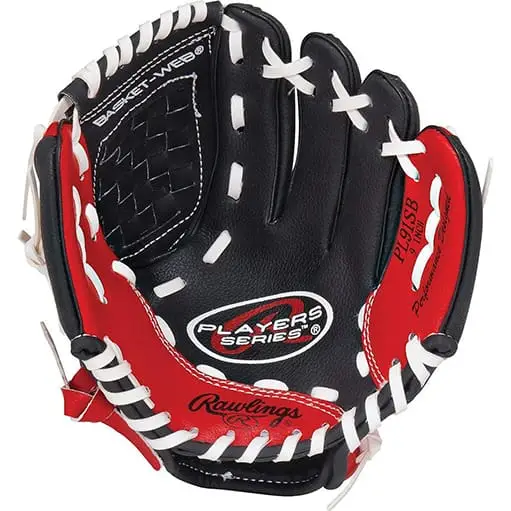 At only 9″ the Rawlings Players Series glove is perfect for small hands of toddlers. Our experience was that it is quite soft and didn't need to be broken in at all, but some reviewers have reported that it was a bit stiff at first.
The Player Series glove features a basket weave deep pocket, which makes it easier for a child to catch and hold on to the ball.
A great first mitt for the little ones.
Why it's Great:
Soft and pliable – great for beginners
9″ – great choice for toddlers, 3 – 5 yrs old
Basketweave pocket makes it easier for kids to catch the ball
Safe soft core training ball included
Rawlings Player Series Girls Pink T-Ball Glove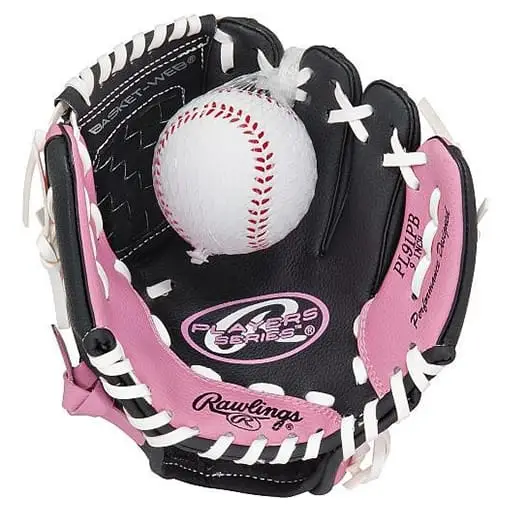 As the proud father of an amazing daughter, I was happy to see that Rawlings has included a Player Series glove just for girls. When my daughter was playing tee ball our only choice was to get her a glove designed for boys.
Now this may not be an issue for you. But some girls actually do like pink. So if you are looking for a great t ball glove for the little girl in your life, you can't go wrong with this one.
It has the same features as every other in the Player Series. What sets it apart is only the pink color.
Why it's Great:
Has all the same great features as the other Rawlings Player gloves
The pink design makes it girl friendly
Available for both right and left-hand throw
Franklin Sports Neo-Grip Teeball Glove – 9″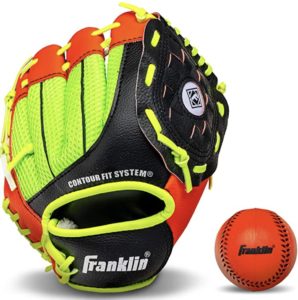 Another great Franklin t ball glove for toddlers, the Neo-Grip features a neoprene coating on the palm which makes it easier for young kids to catch the ball. It's very easy to squeeze and makes a perfect first t ball glove for a 3 or 4-year-old.
This one is available for left-handed children as well as right-handed, and it includes a cool red ball.
Why it's great:
Easy to squeeze – perfect for the youngest kids
Neo-Grip coating on the palm makes it easier to catch and hold the ball
Available for left and right-handed
Adjustable velcro wrist strap for the perfect fit
These gloves also come in other colors:
Wilson A200 Youth MLB 10″ Tee Ball Glove in Team Logo Designs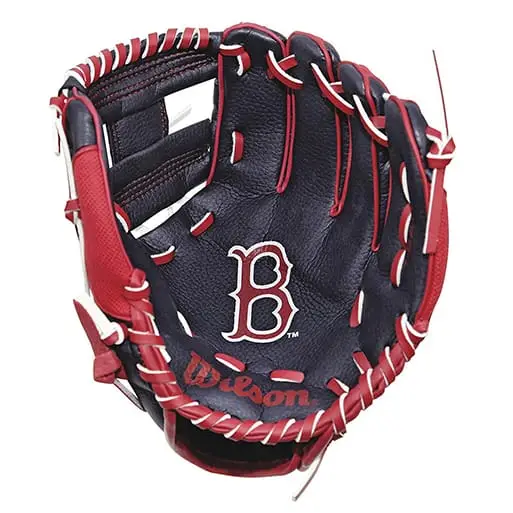 The Wilson A200 comes in a variety of Major League team designs. And yes, I deliberately chose to use the 2018 World Series-winning Boston Red Sox image to show you!
This T Ball mitt is 10″, so it gives your child room to grow without it being too big to start. This is a great glove for all positions. The only thing I can say negatively about it is that there is no option for left-handed players (left-hand throw).
Here is a typical review from Amazon:
"My six-year-old son says he can "catch anything with this glove!" He loves it and wants to order another one. :)"
Why it's great:
A good quality glove that is perfect for young players
Get it with your favorite team logo
Room to grow but not too big to start
Most likely one of the gloves I've discussed here will be perfect for your small child or toddler. There are so many gloves on the market these days you can certainly find something to meet your needs if one of these doesn't quite for it for you. Just check out the variety of t-ball and baseball gloves for youth available on Amazon.
And don't forget to see our T Ball Sets for Toddlers and Best T Ball Helmets for Children Under 6 Years Old articles. And to save your rear during a game you may want to check out The 5 Best Stadium Seats for Bleachers.
I'm a sports fanatic and father. I love sharing my love of sports with kids because I truly believe that sports impact the lives of kids like nothing else.