5 Best T Ball Sets for Toddlers and Up
Spring training has ended and the MLB season has begun!  The smell of freshly cut grass and ball park hot dogs hangs in the air. 
Along with the pro season, every baseball lover thinks, "Is my kid old enough to start tee ball little league this year?"  We are here to help you find the right toddler t-ball set for your little slugger.  And because there is no official name, we will use tee ball, T ball, and t-ball interchangeably.
Tee ball introduces America's pastime to our youngest boys and girls.  For many, this sport starts a lifetime of athletic and recreational competition.  With the best tee ball set, the kids have a lot more fun because they can hit well once it comes time to step up to the plate.
Best Batting Tee for 3 Year Olds – Little Tikes Tot Sports T-Ball Set
Perhaps your junior all-star can walk and hold a bat, so you feel ready to tee up and start practicing.  You can't find much earlier t ball classes and equipment than 2 years old.
We looked at national youth t ball practice programs like YMCA, i9 and Sportsball.  i9 allows 3 to 4 year olds to sign up for T ball, but Sportsball has a Parent & Child program for as young as 2 years old.  YMCA requires 4 years old and up for t ball sign ups.
For their first practice, skip the tee ball set.  Any shape of plastic bat and any ball will do fine.  If you spend time playing baseball and having fun with them, they will develop a love for the game regardless of equipment.  We've seen parents line the ball up on traffic cones, pool noodles, or hang it from a string.
The focus of the first tee ball set needs to be durability and flexibility.  It should grow with the kid and take whatever abuse comes its way.  In this respect, the Little Tikes TotSports T-ball Set is a popular choice, and suits the bill.
This set can be found at most sports retail stores such as Walmart, Target or Amazon.  For a cheap price, this set will get you swinging and is sure to be a hit at birthday or Christmas time.   The perfect tee ball set for toddlers, it has soft balls and a short hollow bat to minimize collateral damage as your toddler learns the nuances of trajectories and leverage.
This ball set is fine for a first swing, but as your child grows in ability and strike zone, you may want to consider a more advanced batting tee for beginners.
Best Bargain – Toyvelt T-Ball Set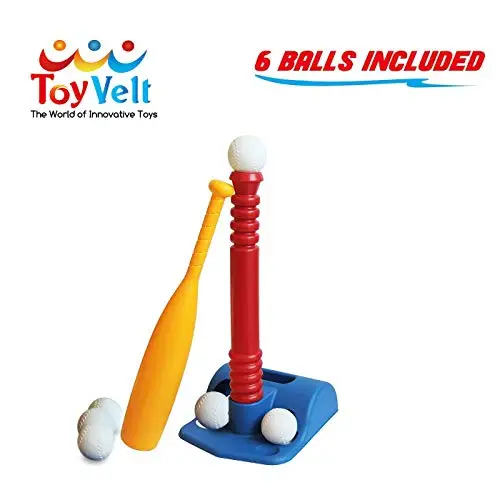 Toyvelt may not be a household name like Fisher Price or Little Tikes, but they do make a great tee ball set for toddlers and younger children.
Although the manufacturer states that this is for children from ages 3 – 12 we think it's best for kids 3- 6; the fat plastic bat and plastic balls make this more suitable for the younger ones.
If you are looking for a good t-ball set for a toddler the Toyvelt will fit the bill. It comes with 6 hard hollow plastic balls, is fully adjustable, and it has really cool hang on the wall design making it easy to store.
Best Pitching T Ball Set for 4 Year Olds- Fisher-Price Grow-to-Pro Triple Hit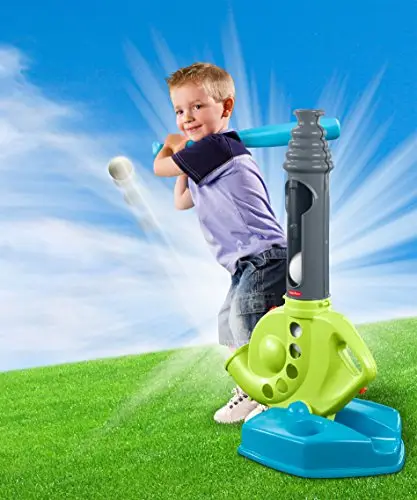 When kids reach 4 years old and are having fun hitting the T ball, we can start to look at proper swing mechanics and equipment.  In order to get a good swing down, kids need to use a normal shaped plastic tee ball bat.
We reviewed sets with longer bats but soft balls so that we don't break any windows.  In this department, the Fisher-Price Triple Hit Baseball shone above the rest.  This set has a 21" bat, foam balls, and a plastic tee.  The batting tee takes batteries and converts into a pitching practice that tosses the balls in the air.
We love this set for recent toddlers because once they master connecting off the tee, they can hit out of the air.  The bat will be swinging away, so we recommend all tee ball practice be done outdoors if possible.
Best T Ball Set for 5 Year Old – Easton Deluxe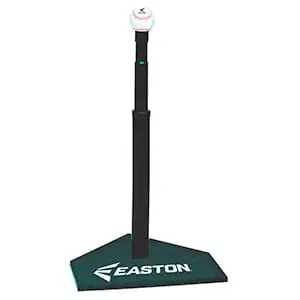 Kids can learn to swing love baseball with the plastic batting tees above.  However, there comes an age where playing at home is only practice for the youth recreational t ball league.
For a parent or tee ball coach at this level, they need an actual, solid rubber tee for baseball game day.  We're talking a heavy duty base plate and a rubber tip that will last season after season.
For entry level game day batting tees, no name is more trusted than Easton.  The Easton Deluxe Batting Tee adjusts from 27 to 36 inches.  Kids as young as 5 years old can enjoy the adjustable height.
It has a solid base and is assembled with a metal bolt through the bottom. The rubber construction ensures a durability that can take a beating swing after swing and still look good on the field.
Best Complete Set – PowerNet T-Ball Coaching Bundle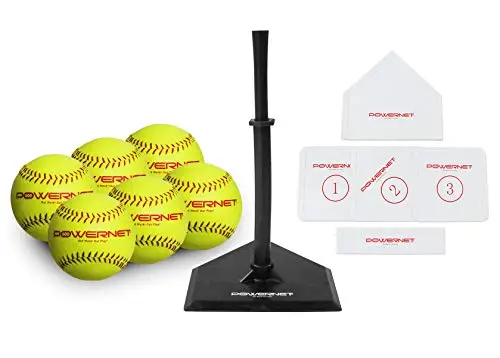 One great price for a top quality tee, soft core baseballs, and rubber bases. The PowerNet T-Ball Coaching Bundle is perfect for coaches of course, but also for parents.The PowerNet tee is adjustable from 22" to 33", made of a durable rubber, and built to hold up over time. The rubber base is designed to stay upright when hit, and unlike many other products, it will take the hits and not brea over time.The rubber bases are marked to help beginners learn about the bases, and easy to store and carry. You can throw them down in your yard or anywhere there is some space and you have an instant baseball diamond.This awesome set also includes 6 soft core baseballs to protect the kids and the coach.All you need is a bat and you are ready to go!As one reviewer said "Put this in front of a PowerNet and you have an instant garage training center."
If you are looking for a t-ball tee, bases, and some balls you can't go wrong with this great bundle.
Need Some Extra Balls?
We like the SKLZ Reduced Impact Safety Baseballs for the little ones. They can have their fun without getting hurt. They have a great traditional baseball design, and they are the standard baseball size.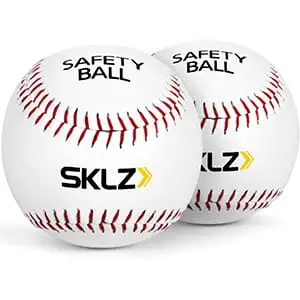 For official play we like the Rawlings Official Youth Tballs. Like eggs they come by the dozen and at less than $3 each on Amazon they are a bargain too.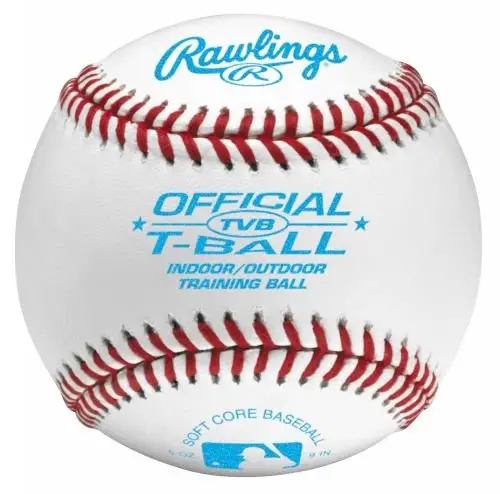 Tee Ball & Bat Sets for Sale on Amazon
Of course there are many more batting tee sets available on Amazon, you can see many more here. We hope this review helps you find the tee ball batting tee that's right for your kids.  As you can see, there is a large range of quality and function.
If you have little tikes, a simple plastic tee can help them learn to swing and love the game.  If they enrolled in little league, a plain game day tee could be cooler and more appropriate.
As they begin this potential passion, a few more items of tee ball equipment can help complete the set.  Once you find the right tee, look into tee ball sets.  You need bases, bats, bags, tee ball helmets to get your kid ready to go.
The Easton Junior Z5 Batters Helmet is a perfect tee ball batting helmet for a good price. The foam and hard shell absorb impacts from machine pitch, and the ears are well covered without being too stuffy.
We also look closely at the appropriate footwear in our kid's cleat selection guide.
Don't forget to take care of yourself as well, with the best stadium seats for bleachers. If you need protection from the elements check out sports pod. Support your Junior Allstar without giving up your creature comforts.
Winter is coming!
Check out our selection of snow sleds for kids. Even in a pandemic sledding is a great way to give your children a good time!
I'm a sports fanatic and father. I love sharing my love of sports with kids because I truly believe that sports impact the lives of kids like nothing else.