You gotta love pogo sticks. This classic toy is great exercise, teaches balance, improves motor skills, is a great workout, and is great fun both to do and watch others do.
When deciding what is the best pogo stick for the kids in your life you need to take into account their age and weight.
Who invented the pogo stick?
The pogo stick was invented in 1918 by George B. Hansburg. Florenz Ziegfeld Jr. thought it was cool enough to include in his popular Ziegfeld follies and that was enough to convince Hansburg to create Flybar, Inc., which to this day is the largest manufacturer of pogo sticks in the world.
And we think they are still the best. And Flybar stands behind their products. If you have any trouble they offer a full 30-day refund, no questions asked, so you have nothing to lose.
Flybar My First Foam Pogo Stick – Best for Ages 3+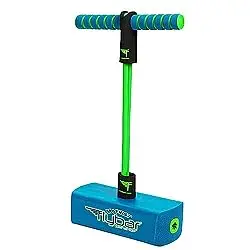 Of course, a kid as young as 3 is not going to be able to operate a standard one, but they will have hours of fun with the Flybar My First Pogo Stick, which features a block foam base instead of a tubular peg.
The My First Foam comes in a variety of colors with fun characters on the handle that little kids will love.
The base is made of soft foam and won't scratch up floors, so it can be used inside as well as outside. There is a squeaker inside, which can have the effect of driving adults a little crazy, but the squeaker can be removed if need be to preserve your sanity.
We didn't find it to be the case in our tests, but some reviewers report that the squeaker stopped working altogether not long after they got it. Some parents were happy about that, however, so if that does happen it might be a blessing in disguise.
The My First Foam Pogo Jumper is great for little kids, it promotes balance, enhances motor skills, and is just a lot of fun. Jumping around on one of these is a terrific way for kids to get up and get active.
Flybar Limited Edition Maverick – Best Pogo Stick for Young Kids Ages 5+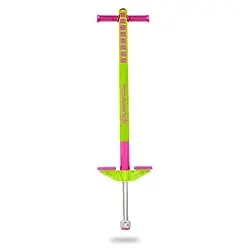 Once your child gets a little older they will be ready for the real deal, and you can't do better than the Flybar Limited Edition Maverick Pogo Stick. Designed for safety and ease of use, this is a great pogo stick to learn on.
It features a fully covered metal spring for protection, ergonomic rubber hand grips so your kid can comfortably hold on to it, and sturdy, textured non-slip foot pegs to prevent slipping off.
It comes in bright kid-friendly colors, including a pink and green one for the girls, and it's designed for kids weighing 40 – 80 lbs.
Flybar Foam Master Pogo Stick – Best for Older Kids Ages 9+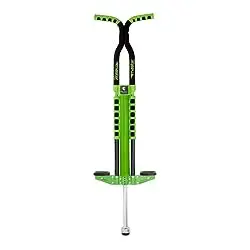 Older children are ready to reach mastery with the Flybar Foam Master Pogo Stick. Designed for kids 9 years old an up, this one will handle weights from 80 to 160 lbs.
It features sturdy non-slip foot pegs and a wider tip on the peg for stability and safety.
Durable and meant to take whatever punishment an older kid can dish out, the Foam Master features foam-covered grips and from for safety and because it looks darn stylish.
Your kid will master awesome pogo tricks in no time. They will want to spend less screen time and more time getting exercise and having fun.
Conclusion
Pogo sticks are great fun and great exercise. Your kids will be entertained for hours while they develop balance and motor skills. Just make sure you get the right best one for your kid's age and weight. And make sure they wear a helmet – safety first!
Be sure to check out some of our other youth sporting equipment reviews too, for example, Best Tee Ball Sets for Toddlers and Best Home Balance Beams for Kids.
Remember, an active kid is a healthy, happy kid!
I'm a sports fanatic and father. I love sharing my love of sports with kids because I truly believe that sports impact the lives of kids like nothing else.