Step 2 Climber and Slide Review
Jungle gyms capture the climber's thrill of leaving the earth behind, then the rush down the slide back to the ground!  Our ballpark growing up had the best obstacles to swing from and leap off.  Now, Step2 Climber and Slide sets allow the climber spirit of the toddler to soar without the greater dangers of a big boy jungle gym.
Step2 makes many different Climb and Slide sets for climbers 2 to 4 years old of all interests.  We looked at toddler activity gyms with climbing walls, swings, basketball hoops, and hideouts!  We focused on these products because of their trustworthy name and quality, easy-to-assemble plastic products.  Many of these climb and slide sets can be used as indoor or outdoor climbers.
Step 2 Climber Comparison Chart
Best Value Climber – Step2 Naturally Playful Woodland Climber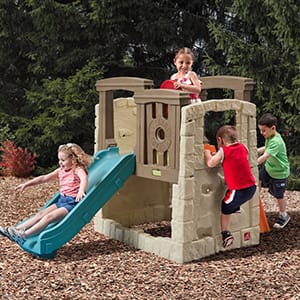 If you have multiple little kids or some play dates planned, it may get crowded on the climber.  Step2 and other brands offer full-blown jungle gyms, but those get pricey.
We think the best value compromise is the Step2 Naturally Playful Woodland Climber
.  This large and aesthetic activity center has a ladder and slide, and rock walls on both sides.
From 2 years old to 8, this design offers many climbing challenges that can keep it interesting.  The climbing walls and large platform make this set ideal for multiple kids to share in the fun.  Also, the crawl space below works for alone reading time.
We like the look and price point of the Woodland Climber.  Be sure to bring the SUV and a spotter; the package will weigh more than 80 pounds.
Another midrange option is the Step2 Play Up Double Slide Climber.  Once you get to the playhouse or clubhouse climber combinations, the price rises quickly.
Why We Like It
Promotes lots of imaginative play
Good size and durable
Easy to assemble
Our Rating: 5.0
Most Creative – Step2 Climber Skyward Summit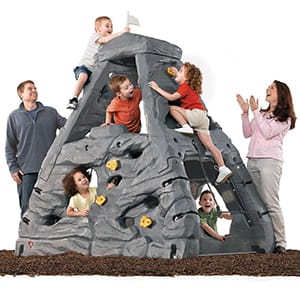 For something completely different, check out the innovative, new Step2 Skyward Summit.  The pyramid shape and genuine hand grips set this apart from the other Step2 climbers in our review.
The climbing toddler must contend with hand grips and cargo nets to reach the summit, where they can plant the flag!
The creative flag idea also makes for some great capture-the-flag.
This rock wall climber provides a unique addition to the backyard and a new challenge for the billy goat in your family.
Why We Like It
It's big and fun!
Great for the climber in the family
Sturdy and durable – it will last years
Our Rating: 4.5
Best Playhouse Climber – Step2 Naturally Playful Clubhouse Climber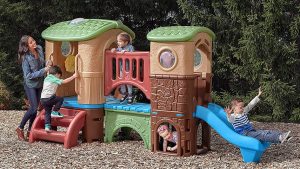 Once they've graduated from the indoor climber age, you will be ready to send your tikes to the backyard.  The Step2 Naturally Playful Clubhouse Climber
will be the centerpiece of any backyard playground.
Kids 2 to 8 years old can have endless naturally playful clubhouse climber
 imaginative play.  Two towers are connected by a bridge, with slides, windows, crawl spaces, and a ladder.
There is even a skylight and a steering wheel. Toddlers love steering wheels!
Expect a few hours for full assembly, even with a power drill.  Once assembled, you don't need stakes at all and it will hold up to 240 pounds!  Make sure you have some space cleared.  This item ships in two huge boxes!
Why We Like It
Multiple-level play areas
Good for climbing, crawling, sliding, and crawling activities
Rails and other safety features
Durable – built to last
Our Rating: 4.2
Best Step2 Swing Set Climber – Naturally Playful Playhouse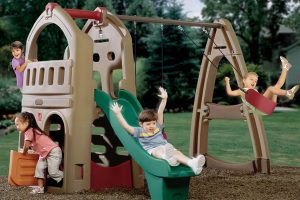 Finally, we would be remiss to not include a swing set option in our Step2 Slide Guide.  The Naturally Playful Playhouse Climber comes with the Step2 Swing Set Extension
.
This climber has a 5.5-foot slide, the longest in our guide.  The large size means it must be installed outdoors, but the colors blend well with a backyard.
The swing set extension may require more assembly time than the regular Step2 climber sets, so expect a slow process.  Use the included stakes to prevent rocking.
The assembly directions are not as clear as we would like. One thing to know is that the swing part and the slide part are attached by a single beam that must be attached before you complete the slide part. So don't do the entire slide part before doing the swing part. They go together. (This will make sense when you do assemble the climber.)
Once built, the swing set will last many years until the kids are 8 years old, or they exceed the recommended 75 pounds per swinger.  After that, a used aluminum set may be your best bet.
Why We Like It
Lots of fun activities
Durable and long-lasting
Room for several children to have fun
Our Rating: 4.3
 Most Fun – Step2 All Star Sports Climber
In addition to the simple folding slides, Step2 incorporates other fun activities in their designs.   Our favorite Step2 activity climber
is the All-Star Sports Climber
, because junior all-stars are what we're all about!
This imaginative climber stands about 2 feet off the ground, a little taller than the Jr. Slide platform.
It features a basketball hoop, soccer goal, football target, and scorekeeper along with a ladder and slide.
The climber set also comes with a soccer ball, basketball, and football. The balls and targets make this fun slide more engaging, so hopefully, it will be relevant longer.
Kids can enjoy it from 18 months to 5 years old.

Why We Like It
Great for active toddlers!
Included sports balls are very fun
Durable – good for indoor or outdoor use
 Our Rating: 4.2
Most Basic Climber with Slide – Step2 Play and Fold Jr.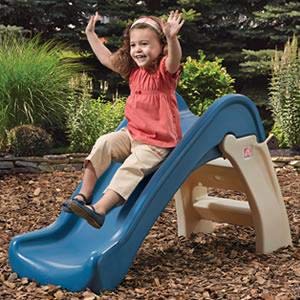 Toddlers as young as 18 months will love the Step2 Play and Fold Jr
.
This wide and sturdy slide safely introduces the mechanics of climbing and balance.  It has a deeper channel than other toddler slides making it less likely that your child will fall off the side. The slide slopes long enough for the baby to slow down, but we recommend an extra pillow and adult supervision.  At 18 inches in height, a fall from the top shouldn't cause too much damage.
The slide folds easily for storage, weighing in at 12 pounds.  Don't forget about the fun of sliding toys down the slide too, such as Hot Wheels and Tonka Trucks!  These quality products will last a few seasons outdoors.
What We Like
Safe and sturdy, deeper channel and easy sloping angle
Sturdier than other toddler slides
Lightweight 12 lbs. so easy to move
Easy fold up for storage
Our Rating: 4.2
Step2 Naturally Playful Big Folding Slide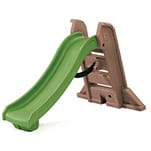 Although by 4 years old, your little tike may have outgrown the Play and Fold Jr. slide.  Step2 also makes a bigger version called the Naturally Playful Big Folding Slide for Toddlers
.
This climb and slide stand more than 3 feet off the ground.  It weighs more than 30 pounds to support the bigger kids. The Play and Fold just snap together, but the Big Folding Slide requires a few bolts and wrenches for assembly.  And it folds up easily for storage.
 What We Like
Ages 2 to 8
Safe and sturdy, like the Step2 Play and Fold Jr.
Easy fold-up for storage
Our Rating: 4.8
Little Tikes vs Step 2 Climber Review
Obviously, these two brands are #1 and #2 in terms of large assembled plastic toys for toddlers.  Little Tikes probably has the edge for your shopping carts, work benches, basketball goals, tee ball sets, and of course the classic Cozy Coupe.  They just have more volume and exposure.
However, Step2 has clearly gone the extra mile in climbers, slides, and swing sets, as evidenced by their variety and creativity outlined above.  We know that it takes creativity to keep kids entertained these days.  There's really not anything else on the market for toddlers like the Skyward Summit.
Step2 and Little Tikes have a similar reputation and quality of product, so we have to declare Step2 the best for climbers and slides based on the breadth of selection.
Visit the Step2 blog for more ideas on outdoor activities.
 Step2 Climber Assembly Instructions
We've assembled links to the assembly instructions for the bigger sets, which can have a lot of screws and pieces.  Expect the larger sets to take a few hours from opening to playtime!
Should I Buy Step2 Climbers on Amazon or Craigslist?
As far as new products go, Amazon's prices will be competitive with any big box retailer, like Walmart.  Also, if you have Amazon Prime
, you get free 2-day shipping in the continental US, no matter the package size!  If you have a truck or can borrow one, you may consider checking Craigslist first before buying a new set.
As we've said, these sets last from age 3 to 8 years old.  But the quality material will last much longer than 5 years.  Therefore, you may find folks in your town whose Step2 Climber has been outgrown well before its lifespan has ended.  They may be willing to cut you a deal for taking it off their hands. One trick to finding these deals is entering "step2 climber site:craigslist.com" into the Google search bar. If you are located in the UK, here is also an excellent review of the best toddler climbing frames.
I'm a sports fanatic and father. I love sharing my love of sports with kids because I truly believe that sports impact the lives of kids like nothing else.