3 Best Beach and Backyard Volleyball Sets
One game that pretty much everyone loves to play is volleyball! With a good portable volleyball net set you are sure to have a blast with your family and friends. Take it to the beach and you will instantly attract new friends. There are some terrific portable sets available that won't break the bank. Aside from affordability, the criteria for which sets to highlight in this article are durability, fast and easy setup, how well the net anchors in the sand, and just how portable it really is. These net systems need to be easy to pack up and easy to carry.
Quick Look: Outdoor Volleyball Net Sets
3 Great Volleyball Net Sets for Your Backyard and the Beach
Keep reading for more detailed reviews of these great volleyball sets, and at the end, we recommend 3 great balls.
Our Top Choice

– Vermont Portable Volleyball Set

The most important feature of a volleyball set is that it has to be sturdy and take the punishment it gets during a robust game. You don't want to knock it down or lose when the ball hits it hard or when someone smashes into it while trying to spike the ball. And that is exactly why the Vermont Portable Volleyball Set is our top choice. This sucker is built to take it and that's why I like it the best.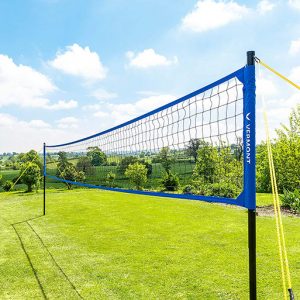 The Vermont is the most expensive set we feature in this review, but it is still much less than many inferior products I chose not to recommend. We don't waste our time on My Junior Allstar talking about products we feel are not worth your money, only quality is discussed here, and this one is a great value.
The rust-free aluminum posts are adjustable to 3 different heights, and it meets FIVB regulation.
The net itself is very tough, it will endure years of use. The poles don't need to be pushed into the ground, it is anchored with ropes and stakes.
Setup and teardown are both quick and easy, and it packs up into an included carry case.
It includes everything you need but the ball. Other sets do include a volleyball, but given the quality of the Vermont set, and the relatively low cost of a quality ball, I don't find that to be a dealbreaker.
Be sure to see the end of this article where I discuss some good balls. Bottom line: If you want an excellent quality portable volleyball net set at a reasonable price, you'll be hard-pressed to find a better product than the Vermont set.
Best for Beach

– Park & Sun Sports Tournament Flex: Portable Outdoor Volleyball Net System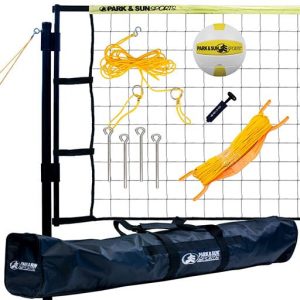 Featuring a regulation size 30′ net, the Park & Sun Tournament Flex Set is a great choice when you have the room, and of course there is plenty of room on the beach! This set has some really great features.
What I like the best is Flex-Net Adjustable Torque Bar holds the net tension perfectly tense, and it adjusts to any height up to 8′ so if you are playing with the kids it's really nice to bring it down so even the youngest can feel like a star.
Even though the product image shows a ball, the set does not include one. That's a bit annoying!
However a good volleyball is not an expensive item, and it might be best to choose your own, especially if you have small kids – I highlight the perfect one for them toward the end of this article.
Aside from the missing ball, the set includes everything you need, and it includes a well-made polyester carry bag for easy transport and storage.
So if you have the space, or if you are off to the beach for a day of fun in the sun, and of course a rousing beach volleyball match, you can't go wrong with this set.
Best Backyard Value

– Baden Champion Series Backyard Volleyball Net Set

At about 1/2 the price of the Vermont, the Baden Champion is an impressive volleyball set that's a great choice for a backyard or to take out to a park for an afternoon of volleyball fun.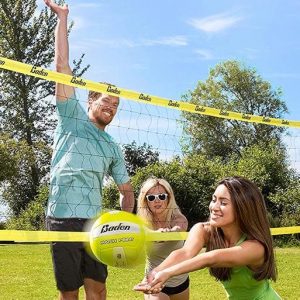 The poles are not adjustable but you can slide the net up and down the poles to the height you want.
The ball is included, but it's not of the greatest quality. A lot of people report that it doesn't stay inflated and gets very soft, so if you do opt for this set you may want to also order a good quality volleyball.
The set does include a pump to inflate the ball. But still, the poles and net are of good quality. They are not as durable as the Vermont but they will hold up fine with regular backyard use, which is what this set was designed for.
It's easy to set it up, only takes a few minutes, and taking it down is just as fast and easy.
The set includes everything you need, although you may want a better ball, and includes a great carry case for storage and transport.
If you looking for an affordable home or backyard volleyball set for the kids, for picnics, barbeques, and to have fun with friends and neighbors the Baden Champion series might be just what you are looking for.
3 Great Volleyballs
Even though you can find sets that include the ball, they tend to be kinda crappy. Of the 3 sets I selected for this article, only one includes the ball, and it's crappy. Quality balls don't cost much so I don't think it's a big deal to spend a few more dollars for one or two when you order your set.
There are many good ones available on Amazon, here are 3 that I like, starting with one that is great for younger children.
Tachikara SV-MNC Volley-Lite Volleyball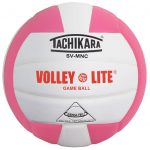 The Tachikara SV-MNC is the same size as a regulation ball but lighter, which makes it very kid friendly. It is designed for players 12 and under. It's available in a plethora of colors; I chose the pink image because the goal of My Junior Allstar is to be very female-friendly. Girls deserve the same sports opportunities as boys! This ball leather with a butyl bladder, is very well made and sure to last for years.
Wilson Soft Play Outdoor Volleyball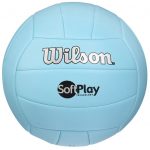 It also has regulation weight and size, but this ball is softer so it's easier on the wrists. You can choose from 5 colors, and this one is priced very nicely.
Wilson Graffiti Volleyball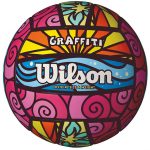 I chose this one because including the fact that it's a great quality product it has a really cool design that everyone will love. Aside from the very fun design, the Wilson Graffiti Volleyball is a great value. It's perfect for the outdoors too. Take it to the beach and have a ball (yuck yuck!). Sorry, I couldn't resist.
Make Summer 2019 One to Remember
Summer is such a special time. The kids are out of school, the weather is warm, it's the time for camp and vacations, and of course summer sports.
Making memories this summer with family and friends playing volleyball in the backyard or the beach is a no-brainer. Get the kids off the electronic devices, make some cool drinks and tasty food, get outside, and play!
I'm a sports fanatic and father. I love sharing my love of sports with kids because I truly believe that sports impact the lives of kids like nothing else.