Youth Lacrosse Gloves Guide
In lacrosse, you don't handle the ball with your hands, like many other sports. To add to the degree of difficulty, you save your fingers with large, sometimes unwieldy gloves.
For a kid to develop their stick skills, the right size and type of gloves are a must. The right gloves will fit properly and protect the fingers and wrists. The grip is important in poor weather conditions.
Finally, a little ventilation helps the player stay comfortable and prevents you from smelling some of the unavoidable odors. With that lovely picture in mind, let's examine the best kids' lacrosse gloves for all positions.
Beginner- STX Stinger Youth Lacrosse Gloves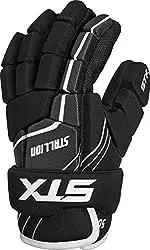 The true beginner needs to look no further than STX Lacrosse Stinger Youth Glove. This 12" glove is designed to get your 11 or 12-year-old up and running on the field.
The price point is among the best you will find at the entry-level. These gloves are on the bulky side, which is important as arm strength is still being developed. That stick can get heavy after a long practice.
At the entry level, you will not find some of the more durable materials and stitching, pleather palms, and superior ventilation. Don't expect them to last more than a season or two.
These kids' gloves are great if your kid is trying to decide if lacrosse is the sport for him or her.
For Kids Intermediate- Maverick Charger Lacrosse Glove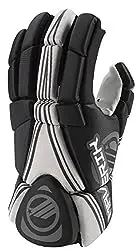 Ok, maybe your kid has been bitten by the lax bug and is in it to win it.
For intermediate youth lacrosse, check out the Maverik Lacrosse Charger Glove.
Maverick is a dependable name in lacrosse gear, and their gloves are no exception. First notice how the glove extends further down than the STX beginner glove, increasing wrist protection. The suede palm material makes for a better grip and feel as the player's comfort with a stick advances.
Finally, the material will be a little less stiff. This allows for higher performance but does sacrifice a bit of the thick padding in the process.
Best Advanced- Brine King Superlight 2 Lacrosse Glove
Brine King Superlight 2 Lacrosse Glove comes as small as 12", appropriate for bigger middle school players.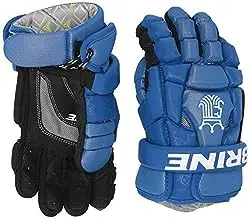 These kids' gloves are some of the lightest we found, allowing for better endurance and stick speed. The padding is sufficient on the back of the hand, but fairly light on the little finger side.
The palm is specially textured to add grip in all weather conditions, and still be ventilated. The back also has built-in vents for more airflow. The floating wrist cuff is a very popular feature among middies and attackmen, especially for face-offs.
If your kid had a glove without any wrist cuff, you know exactly how often checks land just underneath the glove. For an advanced-performance youth glove, you can't go wrong with the Brine King Superlight 2.
How to Size Lacrosse Gloves
Lacrosse gloves for kids come in three sizes: 10″, 12″, or 13″.  13″ is for kids who are in high school and is an adult-size lacrosse glove.
12″ is a good bet for a tall middle-schooler, or if you want to leave room to grow.
Small middle school players and younger have the limited 10″ option for some good entry-level gloves.
Thank you for checking out our 2017 guide for youth lacrosse gloves! Check out our other reviews for information on padding, sticks, helmets, and goals.
Gloves and other gear are important, but make sure your junior all-star is hitting the wall every day, working on ground balls, and keeping up their conditioning in order to truly excel in lacrosse.
I'm a sports fanatic and father. I love sharing my love of sports with kids because I truly believe that sports impact the lives of kids like nothing else.