Kids Fishing Poles for a Summer to Remember
As the weather starts to warm a lot of  parents are going to start looking for kids fishing poles. Fishing is more than a sport or a hobby; it's cultural.  Die-hard anglers can't wait to introduce their little ones to their passion as soon as they can lift a rod. And kids love it. They pick right up on their parents' excitement and will volunteer to handle bait or sit dutifully for hours watching their bobber.
Those who had the chance to fish as little kids remember the excitement of the fish hitting your line, or seeing the bobber submerge.  Frantic reeling yields a squirming prize, and big grins all around.
So we took a good look at some of the best beginning fishing gear available, with an emphasis on quality and value. In this post, we highlight fishing equipment for youngsters and offer some tips to get you started making lifetime memories.  The important part is getting to the nearest water and dropping a line with your loved ones.  I bet that even professional bass anglers still treasure memories of youth fishing with family.
How to Choose a Kids Fishing Pole
It's pretty simple really, when you are looking for fishing equipment for a child you need to consider a few things: length, weight, durability, and ease of use. And a very important consideration is the style of the reel.
There are 2 reel styles that are best for a child, depending on age and experience:
Spincast Reels
Young beginners need all the help they can get to execute a good cast.  Spincast reels are fully enclosed, generally attached to the rod, and feature a pushbutton to release the line. They are very easy to use and really good for the youngest beginner, 6 and under.
Spinning Reels
For over 7 and maybe with a little more practice and experience under their belt, a spinning reel is probably a better choice. They feature an open design and provide a good basis for a later transition to an adult-style fishing reel.
Rod Length
A good rod for a young child is going to be shorter to allow for better handling and easier casting. You don't want it to be too short, but you certainly don't want a child trying to learn on a longer, adult-sized fishing rod that they can't handle. In general, a kid's fishing rod is going to be 3 to 4 feet long.
So with those things in mind, let's talk about specific products.
Fishing Gear Highlighted in the Article
Unlike when I was a kid, there are some really terrific complete kid fishing kits on the market these days, complete with everything a young child needs to get going. We chose to feature complete sets because they are surprisingly affordable, and the ones we chose are of excellent quality.
And we know the pride of ownership your child will have when they have their personal fishing kit. It will make them feel grown up, and this provides a great opportunity to teach them to take care of their fishing gear, instilling responsibility and maturity in your Junior Allstar.
So now let's get to the actual products.
Plusinno Kids Fishing Kit
This Plusinno combo set comes with everything a young angler needs. It features a spin cast reel, and a tackle box loaded with hooks, lures, bobbers, sinkers, and more. And it comes with a great quality travel bag for easy transport.
Your child will feel like a pro with this excellent kit just for them.
Choose from a 47.24″ or 59.05″ long telescopic rod, which is flexible and perfect for young ones to get a good grasp on their casting technique. Amazon reviewers praise it for its quality and report that it is great for kids as young as 2 and up to 10 years old.
It's very reasonably priced, and really, you just can't go wrong with this set.
Lanaak Kids Fishing Pole & Tackle Box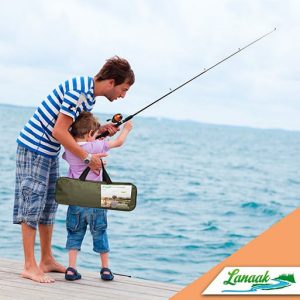 Another excellent set, the Lanaak includes a 65″ telescopic fishing rod with a spin cast reel, a tackle box loaded with hooks, bobbers, lures, and more, a super cool bait net, and a carry bag for transport.
This set even includes a starter guide with easy-to-read diagrams and links to instructional videos to ensure that your child will learn to use the equipment before they get out to the water.
Note this rod is longer, so not really suitable for the youngest fisherperson in the house to handle without some assistance, but it is a great choice for kids a little older.
And Lanaak offers a 30-day money-back guarantee.
Plusinno Spinning Reel Fishing Rod Kit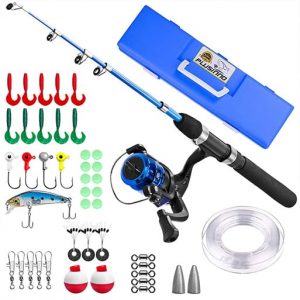 If you are looking for a spinning reel, this kit is what you need. Every bit as good quality as the spin cast version highlighted above, this rod is 4.9 ft. long and includes a tackle box with everything you need.
Reviewers love it for a variety of reasons, including the fact that it packs up so compact making it very easy to carry around. There are countless reviews that tell of the fish caught with it.
It's another solid product by Plusinno that every kid will treasure.
Extra Gear for a Great Day Fishing
After you have found the right beginner fishing rod and reel, kids need a little more gear to make their first trip as safe and enjoyable as possible.
Sun hats and fishing shirts help cover skin for extended periods in the sun, but sunscreen lotion is still a must!  They may enjoy a youth fishing vest.  Sunglasses, especially those polarized with UV protection, can help them see through the water and prevent headaches from squinting.
A good pair of pliers come in handy for handling fish and retrieving hooks.  You should be aware of what fish and other marine life you might net or reel in.  Some fish have teeth or sharp fins and some catfish have very poisonous 'whiskers'.
Youth Fishing License
Please check with your state's Parks and Wildlife Department for rules about fishing with your kids.  Every state requires that adults have a valid license to fish their public waters, with some exceptions.
Kids below the age of 17 are often exempted, but this may change if they aren't a resident of that state.  Licenses are usually less than $50, but this is a lot if you're only fishing for one weekend.  Special rules apply to school kids and disabled kids.  Then, some fish must be released.  Some fish can be kept depending on their length.  Catching frogs and turtles meanwhile require a hunting license and aren't covered by a youth fishing license.
Of course, national parks have still a different set of rules.  Research, before you fish, can save you from a sizable fine.  The rules are ultimately in place to preserve the wildlife that we all treasure.
Why to Fish with Kids
There is our list of all the beginner fishing gear for kids you need to get started!  Fishing teaches important lessons about our dominant place in the food chain, and why that requires respect and stewardship to other life.
Baiting a hook with a nightcrawler, grasshopper, or grub is a life skill and will make for a less squeamish kid.  Also, a few things satisfy like catching, cleaning, and cooking your own tasty meal.
They will also be proud of their fishing gear and show it to all their friends.  Whether you are nearest to the vast Gulf of Mexico, the scenic rivers of Montana, or just Grandpa's pond, your kids will cherish the chance to go fishing with you.
I'm a sports fanatic and father. I love sharing my love of sports with kids because I truly believe that sports impact the lives of kids like nothing else.