Kids Wakeboard Buying Guide
Wakeboarding is becoming more popular all the time.  The reasons are plenty: it is comparatively easy to get up your first time, it is becoming more available with the proliferation of wakeboard cable parks, and finally, it definitely offers the most potential for busting sweet tricks.
We've reviewed a number of manufacturers to find you the best kids' wakeboard on the market, whether your kid is just getting up for the first time, or moving up to the next length after mastering the starter board.
We'll also help you choose the right size and shape of the board. Keep reading to see what is right for your young wakeboarder.
Wakeboard Size Chart
Wakeboard sizing is based on the rider's weight. The following size chart is from Liquid Force.
Best Kids Wakeboard – RAVE Sports Rave Jr.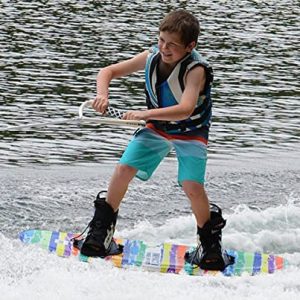 This is our go-to youth wakeboard. Why? For a very affordable price, the RAVE Sports Rave Jr. Wakeboard offers kids the easiest (and least frustrating) chance of learning the ins and outs of wakeboarding.
This lightweight board is made to be especially stable for anyone under 125 pounds. The oval shape creates a wide midsection that gives extra stability, and once you master turning a bit, you can add the included fins to turn a little sharper.
The comfortable boots have easy-to-pull bindings that strap the kid in securely.  Believe me, you don't want everyone to get worn out putting the boots on before you even start the boat.
I learned to ride on a very similar model; the Hydroslide 180 Kids Wakeboard.  I know you will have the same fun learning experience.  It could lead to a life of enjoying water sports.
Keep in mind that junior wakeboards are smaller, with this one being 122 cm from tip to tip, and once the user is above 125 pounds you should be looking for something in the 130 cm to 140 cm range for the same level of stability.
Grab this board online or at your nearest sporting store to experience the memories I'm talking about.
Best All-Ages Wakeboard – Hyperlite 2019 Landlock Wakesurf Board 5.9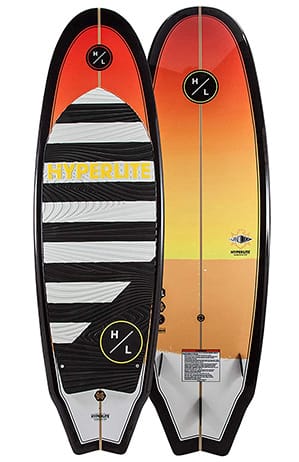 As skill level increases, the board gets thinner and the fins get longer to enable sharp cuts and turns. Longer wakeboards will help the developing rider to grow into the board's size.
Another benefit of longer boards is that they are easier to push through the water, meaning that less force is used to stay up, so these are preferred once riders are able to stay up and want to ski longer.
Once the youth wakeboard rider starts jumping the wake, longer boards are also much easier to land on.  The length gives the rider more room for balance error.
The Hyperlite Landlock Wakesurf Board is long – 5'9″. It's great for beginners and more advanced wakeboarders alike. It's easy to get on, it's very stable.
Advanced Wakeboard for Jumping – Liquid Force Fury 123 Kids Wakeboard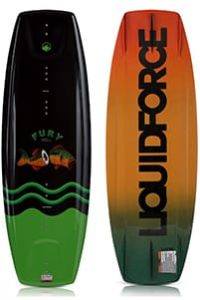 Is your kid the next big thing in the wakeboarding world? If you are already shooting demo videos and getting calls from sponsors, then there is probably not a whole lot of advice I can give you at this point.
But we want to feature this board anyways, so here goes. For this level, we like the Liquid Force Fury Kid's Wakeboard.
Liquid Force has designed this youth wakeboard for the advanced youth rider, with a sharper outline and more aggressive curve on each side. The Fury series helps the rider learn to turn sharply and get more pop off of the wake.
This board also has less flex than the entry boards, which demands more control but also enables much more performance. Consider this board to take your wakeboarding to the next level.
Best Beginner Kids Wakeboards for Kid – ZUP You Got This 2.0
ZUP has redesigned its hit board for the very early beginners.  They want toddlers to be able to get up with no problem.  This all-in-one pack has everything you need to get up and kneeboarding or wakeboarding, besides the ski boat.
Although it is designed for kids, beginner adults are also able to use it, for up to 300 pounds. If you like having guests in your boathouse who aren't used to the water, the ZUP You Got This 2.0 Board Handle Combo may be a great addition to your skiing wheelhouse.
Gone are the days of pulling the boat around 100 times because the newcomer can't stay in the 'fetal' position when being pulled up on the youth wakeboard.  You won't be able to jump or switch, but you will be having fun!
Need a Good Wakeboard Rope?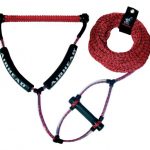 We like the Airhead ropes. They are high quality and of great value.
The EVA Phat Grip handle is comfortable and makes it easy for wakeboarders of all ages and levels of experience to hold on. It has an aluminum core, finger protectors for safety, and foam floats.
We have reviewed some of the top youth wakeboard options for every skill level. However, many of these good brands are not available on Amazon.  You may have more luck with Academy Sports, Walmart, or Target.  For online options that aren't Amazon, check out specialized vendors like Mastercraft.
Be sure to get all the right gear before you get started!  A good rope and handle, and helmet can make all the difference.  Don't forget to always have plenty of Coast Guard-approved life jackets for each kid.  We hope you find your youth wakeboards to be fun and rewarding purchases that will last for many years!  For more beach fun check out our review of outdoor volleyball net sets, great for the backyard or the beach.
I'm a sports fanatic and father. I love sharing my love of sports with kids because I truly believe that sports impact the lives of kids like nothing else.