Garage Sports Lockers and Storage for Kids | Ball Storage Ideas for Your Garage
Kids can leave a mess.  Even the well-intentioned ones who like being organized can leave a mess.  Combine this with sports that require a lot of extra equipment, and you will have a pile that infringes on your day-to-day life.
And how has science not found a way to store round balls conveniently?  Lockers and racks answer all of these needs.  Schools and sports teams learned this long ago.
Heck, the University of Texas just revealed their newest $10k football lockers, in another bid to eliminate player entitlement I guess.  A few hooks, a well-placed shelf, and some personal space make all the difference between an unorganized nightmare and a well-ordered room. This eliminates accidentally switching cleats, runaway balls, or bringing home the wrong socks.
The best kids' lockers have a place to hook a combination lock for privacy and security from classmates or siblings.  And these lockers are available to parents as well as schools!  We have searched and found the best lockers for kids' sports and compiled our findings for you.
Best All Purpose Garage Sports Lockers – Lifetime 60226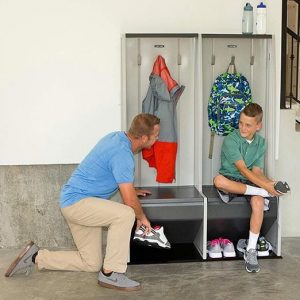 Strong Durable and smart, the Lifetime 60226 is built to last and gets the job done right. Not only is it a great storage space, it can also be used as a bench so kids can remove their muddy cleats or shoes after a game.
Constructed with high-density polyethylene, it won't fade, crack or peel. And it features 2 benches with storage underneath, 6 hooks to hang bags or sports equipment, and there are 2 shoe storage compartments.
And it's easy to put together.
You can find this product in quite a few places, but Amazon has by far the best prices.
Classic Sports Lockers for Kids

If you seek a solid metal sports locker that can be built into a series, we prefer the Hallowell Kid Locker.  The locker stands 48" tall, 15" wide, and 15" deep, weighing 50 pounds.  Hallowell also makes a similar model that is half as tall.
Made with quality worthy of a high school, this athletic storage locker will survive the constant wear of active children.  Your kids may need a place to keep their own electronics or to throw their pads in after practice.
A good athletic locker like this can prevent sibling disagreements and cluttering up your mud room.  There is an adjustable shelf on top with two hooks below it.  The pre-drilled holes in the back and side allow this locker to be mounted to the wall and to another similar model next to it.
Let the kids personalize it by adding fun magnets to the inside or outside.  Your junior all-stars will feel like they are in the big leagues with these metal sports lockers for kids.
Wall-Mounted Sports Ball Storage – Rawlings Ultimate Sports Equipment Organizer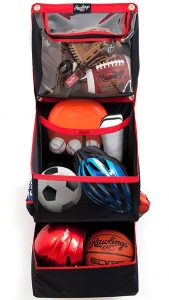 We were also impressed by the clever design of Rawlings Ultimate Sports Equipment Organizer.  For a great price, this kid's ball storage has pockets, hooks, and slots for sports equipment and can hold up to 50 pounds!
Be aware that the frame does require some assembly.  9 hanging screws lend a higher weight capacity.
This will not hold as many balls as the rack above, but it does have handy helmet hooks.
Also, smaller balls for tennis, baseball, and lacrosse have a home-in built-in wire basket.  The pockets offer more flexibility as to what can be stored, such as Frisbee discs for Ultimate.  Whatever your kid loves to play, this sports organizer for kids will help keep your garage clutter-free!
Best Cubby Lockers for Kids Storage Bins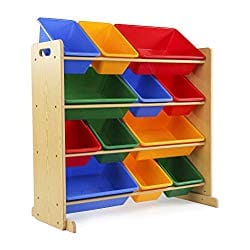 Perhaps you have younger kids, or the metal storage lockers look a bit too industrial.  But you still have a little athlete with lots of balls and knick-knacks.
For you, we recommend Tot Tutors Kids' Toy Storage Organizer.  For boys and girls 3 years old and up, this bin storage has 12 colorful storage containers.  There are 8-8"x11.5" regular bins, and 4-16.5"x11.5" large bins, all 5.5" deep.
A sturdy wooden frame with steel dowels and stabilizing feet supports the toy bins.  The bins can be colored primary, white, or pastel colors.  This cubby storage set holds shoes, balls, toys, and Legos perfectly.
Tot Tutors could improve the stability by adding wall mounts, because some kids may try to climb or put weight on the top shelf.  The durability, style, and usefulness make these cubbies an ideal locker for kids.
Why Have a Garage Sports Storage Organizer
As parents, we all long to keep our garage clean.  On the flip side of that, kids need to be able to find and access their sports equipment and toys to encourage usage.  Garage sports storage like a kid's ball organizer or lockers for kids meets both of these goals.
Hopefully, some of the items above have given you some ideas on using a locker for kids to improve sports storage.  If you are feeling handy, Pinterest also has many cool DIY garage ball storage ideas that use bungee cords similar to the Walmart and Target displays.
Whether your Junior Allstar has his or her first wiffle ball or wants a high school quality locker, get them what they need so that they can have fun and excel.
And while you're at it, consider checking out our review of odor eliminators to stay on top of those sports smells.
I'm a sports fanatic and father. I love sharing my love of sports with kids because I truly believe that sports impact the lives of kids like nothing else.