The Best Stadium Seats – No More Bleacher Back!
Do you have "bleacher back?"
Being a sports parent involves a lot of sacrifice, and for many, personal comfort. Spend enough time sitting on hard bleachers with no backs and you can start to wonder if it's all worth it. "Bleacher back" is actually a thing.
But you don't have to spend your kids athletic years with a sore back and behind. You don't have to sacrifice your creature comforts to support your junior athlete.
A comfortable stadium seat for bleachers will protect your back and your rear end!
There are a variety of stadium chair designs available, from a very basic pad to sit on, to padded chairs with backs, arms and cup holders.
We don't waste our time in this article with flimsy uncomfortable products. Only the best bleacher seats with backs, and good padding are discussed here. All of these are great kid stadium chairs to keep little brother or sister comfortable too.
Some have arms, some are extra wide to accommodate larger folks, some even have drink holders and pockets with zippers to too keep your cell phone and keys safe.
Quick Look: Best Comfortable Stadium Seats
POP Design The Hot Seat, Heated Stadium Bleacher Seat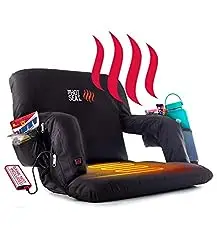 I'm a man who takes my creature comforts seriously, so to me it's worth the price to enjoy a game in comfort and warmth no matter how cold it gets. So to me a quality heated bleacher seat is well worth the cost!
Powered by a USB battery (not included), the POP Design seat keeps you toasty all through the game. It has 3 different heat levels up to 115 ° F.
The seat is 20″ x 33″x 3″, wide and cushioned for superior comfort, with a 16″ high back. SO lean back, warm your buns, and enjoy the game!
Note: the back is not heated, but in our testing, we found the heat from the seat was plenty to keep us warm in the coldest of temperatures.
The only thing negative we can say is that you have to buy a USB battery separately, we wish they would have included that.
Why we like it:
Warm and comfy!
Durable, non-slip waterproof seat
6 reclining positions
Folds flat with backpack straps for easy transport
4 pockets (1 large, 3 smaller) and a cupholder for your hot cocoa
30-day return policy & 2-year warranty
Smart Ideas Foldable Stadium Chair for Bleachers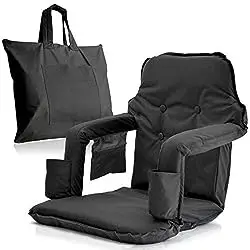 Smart Ideas for Life Foldable Stadium Chair for Bleachers has it all, including 2 drink holders and a zipped side pocket to store your keys, cell phone, etc. It features very thick padding everywhere. Your behind will not be sore after the game, and even the armrests have 3″ of padding.
We love that it reclines to 5 different positions, so you can stay comfortable for a whole game, or an entire swim meet. It has a slip-resistant bottom and a hook to attach it to those bleachers. It can also just be used on the ground or the floor.
This bleacher seat is made of 600D waterproof oxford fabric, and it cleans up easily, just wipe it down. It weighs in at 6.5 lbs, and folds up easily, fitting in the included waterproof carry bag with straps for easy transport.
It's always nice when a company stands behind its products, and Smart Ideas for Life certainly does. They offer a full no questions asked 30-day refund policy and an amazing 5-year warranty. Hard to beat that!
Why we like it:
5 reclining positions
2 drink holders and a waterproof zippered pocket for valuables etc
30-day money back guarantee and amazing 5-year warranty
Alpacour Folding Wide Stadium Seat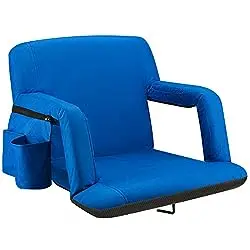 A less expensive alternative to the Smart Ideas for Life Foldable Stadium Chair is the Alpacour Folding Stadium Seat.
This model features 6 reclining positions and 3 pockets but no zippered pocket. It has a great amount of padding, including on the arms, and it's very comfortable, but it is a little less wide if you need a wide bleacher seat this one is not for you.
The Alpacour is great for kids too. It folds up and travels easily, and it is waterproof so you don't have to stress too much over any spills. It comes with a 1-year warranty.
Why we like it:
6 reclining positions
Quality Padding and material
Waterproof, durable, easy to clean
Home-Complete's Wide Stadium Seat Chair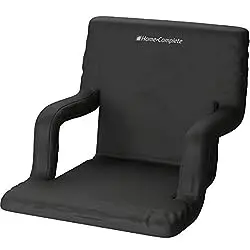 If you need a little more room you can't go wrong with the Home Complete's Wide Stadium Seat Chair. All of our reviewers loved this seat for its back support, cushion, and comfort.  Also, a great price point means that you won't break your back or your bank.
This chair folds completely for easy storage anywhere in your car. Coming in at just over 7 pounds, the straps make it a cinch to carry around.
The inclusion of armrests has also become a must in order to be the top bleacher seat. The chair's main accolade comes, however, in the comfort it provides.
Whether it's a hot day with the sun beating down, or a frigid evening with icy bleachers, the Home-Complete provides a few inches of insulation and cushion that make all the difference. All the best stadium chairs also come in an extra-wide version, to give yourself plenty of room between the armrests.
Why we like it
15″ Wide Seat
Extra Padded Back
6 Adjustable Positions
Picnic Time Portable Ventura Reclining Bleacher Seat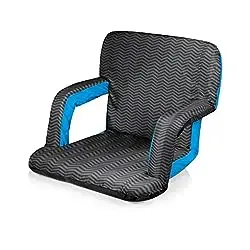 Does your backside feel like it still hasn't recovered from last season's spectating? Does your back twitch a little when you picture stadium bleachers? This year, we found a chair to make you feel like you're back in your favorite recliner at home. That's right, pick yourself up a Picnic Time Portable Ventura Reclining Stadium Seat. This chair has changed the stadium seat game with six adjustable locking positions to match exactly what your heart and back desire. Polyester covers all the cushions.  Also, high-density PU foam makes this chair the most comfortable in the game.
Unlike many of the chairs on this list, the Ventura Reclining Stadium Seat folds flat rather than folding in half. This makes it a little more burdensome to carry with a weight of 10 pounds but is mitigated by the backpack straps feature. It is really nice though, to be able to lay flat in a camping or picnic situation. There are also customizable features on this chair to show your support for your favorite team.
The Portable Ventura seat is backed by a lifetime guarantee.
Why we like it:
6 Adjustable Positions – Very Comfortable!
Lightweight but Sturdy
Lifetime Guarantee
Flash Furniture Game Day Stadium Chair

Of course, the most painful thing about sitting on bleachers is the hard seat. I really hate the metal ones with ridges! So rear-end protection, i.e. padding, is essential to a good stadium seat.
The Flash Furniture Game Day Seat solves that problem with 3" inches of padding in a lightweight but durable metal frame.
One reviewer put it this way: "This seat feels like I'm sitting on a pillow compared to sitting on a hard cold basketball bleacher. Love the thick cushion seat!!"
The back is very comfortable, there is no metal bar on the back like on some other stadium chairs. Nothing like having a metal bar across your back for 2 hours, am I right?
The seat doesn't slide around due to heavy-duty rubber strips at the bottom, and it has a hook to attach to the bleacher. It folds up easily and even has a built-in carry handle.
The most basic of our recommendations, there are no arms, but this is a great portable bleacher chair that does the trick.
Why we like it:
Great Padded Seat
Comfortable Back
Easy Fold Up and Carry
Treat yourself to one of these great stadium seats for bleachers this season, and see the difference! Your back and behind will thank you for avoiding 'bleacher back' or 'bleacher butt'!
It's the 21st century, there is no need to suffer just because you are the amazing parent of an athlete! If you are to be attending a sporting event in a field, or going to the beach, you may also be interested in a personal pop up sports tent.
I'm a sports fanatic and father. I love sharing my love of sports with kids because I truly believe that sports impact the lives of kids like nothing else.