Choosing the Best T-Ball Helmet
T-ball season is exciting for both kids and parents, but it's all fun and games until someone loses an eye. At least that's what my mom always said.
Even though the ball is on a T and not pitched, we want to be sure that our kids developing brains are safe, so you've got to have a t-ball helmet to go along with that t-ball set and glove.
A batting helmet will keep your child's head safe from a knock in the head, either by a thrown ball or a blow to the head with a bat from a rambunctious teammate.
And the fact is they look cool too.
We took a close look at the most popular t-ball helmets available on Amazon and selected 5 really good choices. In this article, we'll focus on everything you need to know when choosing a t ball helmet
 for children ages 4 to 6 years old.
What To Consider When Shopping For A Tee Ball Helmet
There are many tee ball helmets available on the market today. The trick to choosing the right tee ball helmet is to consider which helmet will be the most comfortable for your child. It's very common for children ages 4 to 6 years old to become anxious when wearing a helmet for the first time. Keep in mind that your child will need to run, bat, and throw when wearing one, so choosing a helmet that is safety certified, provides a comfortable and proper fit, and is lightweight is essential. Here are our top picks and why.
Don't Forget the Chinstrap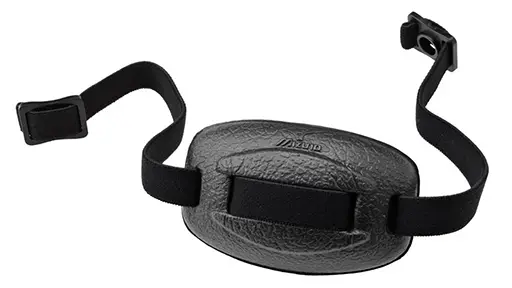 Most helmets do not include a chin strap. We like the Mizuno Padded Chin Strap. It's sturdy, comfortable, and a great deal.
Rawlings Coolflo T-Ball Helmet
The Rawlings Coolflo T-Ball Helmet
 keeps your child protected with dual-density foam and is one of the most straightforward and economical choices available today. It is lightweight for easy wearability and offers a traditional Coolflo design with 15 air vents that keep your all-star cool during gameplay. Plus, the pre-drilled holes for Rawlings-approved yet optional face guards can give you peace of mind with added protection.
This tee ball helmet for 4 to 6-year-olds meets recommended safety guidelines by National Operating Committee on Standards for Athletic Equipment (NOCSAE) and comes in sizes between 6.25" – 7.8".
Pro: The ponytail channel makes for a more comfortable fit for children with longer hair.
Con: This helmet contains snaps for use with a chin strap
, but the chin strap must be purchased separately. Double-check your measurements to ensure a good fit or consider buying a chin strap for added stability.
Easton Junior Batting Helmet Mask
The Easton Junior Batters Helmet Mask
 is the ultimate choice if you are looking for a comprehensive helmet solution with built-in face protection. It meets NOCSAE standards and provides an excellent protective shell against high impacts while the Dual Density Foam absorbs sweat and pulls it away from your all-star's head to keep them cool and fresh during gameplay.
The wrapped ear design secures the helmet firmly in place on the field whether your child is running or up to bat. Available in sizes between 6.37" to 7.12" makes this headgear a comfortable tee ball helmet
 for children ages 4 to 6 years old.
Pro: Designed to fit snugly for added stability and protection during constant gameplay. Available in five colors: black, navy, pink, red, and royal blue.
Con: The face mask is anchored by 4 screws so you'll have to remove the entire helmet if your all-star wants a good luck kiss.
Authentic Batting Youth Baseball/Softball Helmet
If you want options and are looking for a tee ball helmet that can grow with your all-star, the Authentic Batting Youth Baseball/Softball Helmet
 is a good start. The high-impact ABS plastic corrugated shell offers maximum protection and the large vent keeps your child cool.
The face mask and chin strap are sold separately but come with the hardware necessary to install and remove. This T ball helmet is sized 6.75″ and is approved for wear by leading leagues including Little League, ASA, Pony, and USSSA.
Pro: The face mask and chin strap are removable so this helmet can grow with your child.
Con: You have to buy the chin strap and face mask separately.
Rawlings MLB® Inspired T-Ball Clear Coat Batting Helmet
The Rawlings MLB® Inspired NOCSAE T-Ball Clear Coat Batting Helmet is sure to please any aspiring baseball all-star. This T Ball helmet for 4 to 6-year-olds features a great shine and a venting system that keeps your child cool and fresh during gameplay. Its construction meets NOCSAE standards and is durable yet light.
It is available in 3 colors: black, navy, and scarlet, and fits sizes 6.25" – 6.87".
Pro: Your all-star will love the style and clear coat on this tee ball helmet.
Con: Sizing for this helmet varies from child to child. We recommend this for children 5 years old and younger.
Gear Up With The Right Tee Ball Helmet Today
A safety-certified helmet provides all the comfort and protection your all-star will need when playing T-Ball. When it comes to making a final decision be sure to measure your child's head for the most comfortable fit and determine if your child (or you) would be more comfortable with a face mask for added protection or a chin strap for more stability. Oh and don't forget to bring your comfortable bleacher seats while cheering on your Junior All-Star!
I'm a sports fanatic and father. I love sharing my love of sports with kids because I truly believe that sports impact the lives of kids like nothing else.