Personal Battery Powered Cooling Fans
Battery-operated handheld fans change a miserable summer day into an enjoyable oasis. Add a water mister and stay cool at sporting events from Texas to Australia. Tourists, spectators, and women in menopause alike benefit from them. Even The Voice host Christina Aguilera is rarely seen without a stylish but practical personal fan.
The personal cooling fan comes in many shapes and levels of quality. Today we will look closely at all mini fans Amazon offers. Then we curate the best handheld fan options for our experienced readers who know a sweltering summer is right around the corner.
Do you want the most powerful handheld fan cooling technology can offer? Or would you trade the battery-operated fan for the old-fashioned folding fan? Let's find the best portable handheld fan for you.
Handheld Personal Folding Fan
Handheld fans, sometimes called Japanese fans, create a breeze simply and effectively. They do not rely on battery power, so they last until your wrist gets tired. Although you can improvise with a brochure or other piece of paper, the traditional and elegant Japanese prints add class and style.
This fun eHow article explains how to make these fans at home with supplies from any craft store. Or you can usually pick up these fans for only a few dollars at a gift shop or online store.
If you don't want to rely on batteries, a handheld folding fan serves much better than having nothing.
Hand Held Battery Operated Personal Fans
Battery-operated fans deliver real cooling power with no effort. These electric fans can blow for days with a few AAs. However, most of the high-end fans today use lithium-ion batteries with more capacity than an iPhone. The OPOLAR Folding Design USB Fan beats out the competition in this category in function, price, and performance.
This personal fan has a giant 2200 mAh LG battery and three-speed settings. The base folds with a handy clip to attach the fan to your shade or tent. At eight inches in length and six ounces in weight, this fan goes everywhere with you and cools all day long. As mentioned, this fan battery charges in any USB outlet, including wall, computer, and portable chargers.
 Personal Handheld Cooling Fan with Portable Light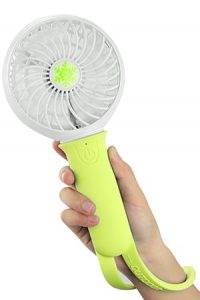 To take the next step in functionality, we looked for a good fan with lights. The Cestmall Electric Rechargeable Mini Handheld Fan quickly rose to the top as a fan favorite! Like the OPOLAR, the Deli Mini Fan has three-speed settings and a huge 2200 mAh battery.
This fan handle does not fold, but the handle is made of silicone and has a silicone wrist strap built in. The strap can be used to hang the fan in your tent or shade.
The fan stands out with an LED light for nighttime or emergency situations, like a backup flashlight. The battery will last four to five hours on the low setting, with less time on faster speeds or with the light on.
Battery Operated Personal Handheld Fan with Mister
The most functional handheld mini fans have misting abilities that set them apart. One such fan is the Topwell Handheld USB Misting Fan. This portable personal fan sprays a cool mist when just airflow is not enough. The reservoir holds 20mL, which is not very much water, but that keeps the fan light. The lack of a strap makes the lightweight important for handheld operation. The battery is the same size as the others, a large 2200 mAh. A full charge yields two to six hours of continual use depending on which of the three speed settings is employed. The cute pink or blue design makes the fan the envy of all at the ball field.
We hope you enjoyed this selection of the top personal handheld fans for fans! We want all sports fans to be respectful and enthusiastic. That is hard to do when you're sweating and miserable. Charge up the right fan, get a comfortable stadium seat for bleachers or a quality folding chair, and enjoy the game.  We have also reviewed pop up sports tents for added shade.  Stay cool this season!
I'm a sports fanatic and father. I love sharing my love of sports with kids because I truly believe that sports impact the lives of kids like nothing else.