Easy Game Day Granola Recipe
Instead of those sugary processed cereals from the grocery store, try this healthy and easy-to-make granola recipe.
I love this stuff, and so does my entire family, and all of the many kids I have shared it with. It makes a great cereal substitute, and it also makes a great on-the-go snack. Packed with healthy grains, seeds, and nuts, the only sugar comes from natural honey – it's just delicious. A great source of energy for game day, make sure to take a big bag with you to the next game.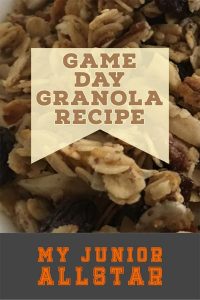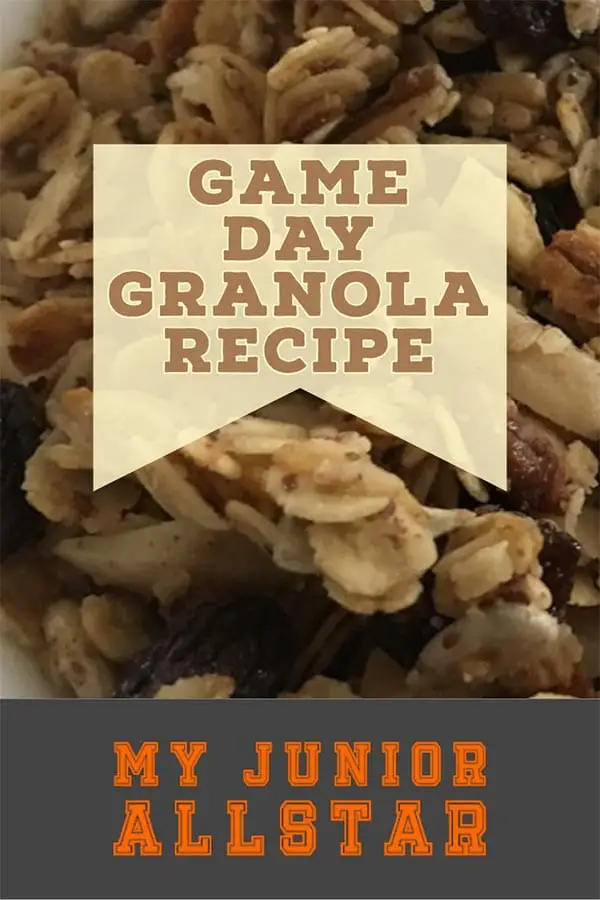 Ingredients
2/3 cup pecans chopped coarse
2/3 cup slivered almonds
6 cups old-fashioned rolled oats
6 tbsp canola oil
1/2 cup sunflower seeds
4 tbsp raw sesame seeds
4 tbsp ground flaxseeds
2/3 cup honey
1/2 tbsp salt
1 cup raisins
Instructions
 With the oven rack in the middle position, preheat your oven to 325 degrees.
Gently toast the pecans and almonds in a large skillet or pan over medium heat, stirring frequently, until they start to give off that lovely nutty aroma and just start to turn darker. This should only take about 2-3 minutes.
Add the oats and the canola oil. keep stirring for about 2-3 minutes more, add the sunflower seeds and sesame seeds,  and stir for about another 2 minutes until the whole thing turns a great shade of golden. Remove from heat.
Add the flaxseeds, honey, and salt and mix it all up until it's all evenly coated with honey. Then add the raisins and mix it all in.
Lightly oil a rimmed baking sheet and spread the granola onto the sheet. Use a spatula to press them together. You want it to be about 1/2 inch thick.
Bake for 20 minutes, until the granola is a nice toasty color. Remove from the oven and let cool for 30 minutes before breaking it up with a spatula.
Enjoy!
Notes
This is great just to eat on its own. It sticks together really well, just break it up into large chunks and put pack it up for snacking on the go.
Eat the Game Day Granola in a bowl with milk. Add some fresh berries or other fruit and it's absolutely fantastic. We keep frozen blueberries on hand at all times for smoothies (we love smoothies in my house). Adding 1/4 cup to a bowl of Game Day Granola and milk is simply delicious.
Or mix it with some yogurt and berries. You can make a great yogurt, berry, and granola parfait.
I'm sure you can come up with some other tasty ways to eat this. Whatever you do you must try this, the kids will love it and so will you.
I'm a sports fanatic and father. I love sharing my love of sports with kids because I truly believe that sports impact the lives of kids like nothing else.