On April 7, 2017, the people of the United States sat watching their television with hunger.  And no, I'm not talking about the Senate confirmation of the new Supreme Court Justice.  I'm talking of course about the latest episode of Shark Tank!  As the
Sharks wrap up Season 8
, sports parents were filled with hope as entrepreneur Rick Pescovitz presented his patented Under the Weather Pop Up Tent.
Founded in 2011, the Under the Weather sports tent has already sheltered thousands of sports fans, but this Shark Tank episode will have the whole sidelines talking about this canopy.  Rick had assembled an intricate display to demonstrate the personal pop up tent performance in the elements, such as rain, wind and sun.  We will see where Under the Weather goes from here with the help of Mark Cuban.  We are also excited to check out reviews and where to buy this canopy tent.
Under the Weather Personal Pop Up Tent
Who hasn't wished for a magical portable shelter from the elements on an uncomfortable day?  This goes for sports parents, as well as photographers, fishermen, beachgoers, tailgaters and more.  Under the Weather invented the Pod to make this dream a reality.  Weighing only 7 pounds, the tent folds into a small circle and carries a few stakes.  When the weather takes a turn for the worse, the personal pop up tent springs into its tapered shape.  The 58 inch height and 1600 square inch base provide room for any cushion or folding chair to be placed inside, and then zipped in!  We like this because most people already have a dependable folding chair.
Mark Cuban understood the potential of the sports pods when he saw it in action and Lori stayed dry.  The full canopy enclosure allows for 270 degree viewing and sun protection.  Stakes and a steel wire frame stand up to wind, within reason for something that weighs 7 pounds.  The special photographer version has a custom zipper on the front so that the clear plastic doesn't affect the action shots.  Under the Weather pop up tent is most popular in colder seasons, where it has been shown to increase your ambient temperature by 30 degrees!  Finally, the Pod comes in many different solid colors (or camo) and offers personalized lettering on the front and back.
Under the Weather XL Pods and other options
After the success of the personal canopy tent option,
Under the Weather followed with the XL Pod.  These pop up pods offer 10 more inches of height and 5 more inches in length and width.  This large pop up tent can easily fit a heavy duty folding chair.  The website offers their proprietary XL Pod Bench if you want to ensure a perfect fit.  Younger kids can also hunker down with you in this spacious personal tent.  The spaciousness and versatility of the XL Pod quickly propelled it to a best seller for Under the Weather.  As well as being a useful shelter for you, this pop up tent makes a great gift to another sports parent in your life.


However, two adults may be cramped in this canopy.  If your spouse or the grandparents are joining you at the games, you may want to consider the Under the Weather MyPods.  This new pop up sports tent features straight sides so that friends and family can sit next to each other.  Each person sits in their own MyPod, but the front and sides can zip down completely.  This allows for conversation without losing warmth.  And finally, for our warm weather fans down south, meet the MeshPod.  This pod has just been patented and is for sale through May.  Mesh walls instead of plastic allow for a breeze to pass through, but still keeps out bugs and direct sunlight.  An optional Sun-Fly attachment fits over the top to provide extra shade.
Other Folding Personal Sports Tents on Amazon
Under the Weather has certainly revolutionized the idea of a personal pop up tent.  This product beats the rest as far as full personal enclosures go.  However, some similar canopies offer shelter differently for great value.  Perhaps you want to sit with a few friends or family under one pop up shelter.  You may be interested in a different canopy tent, like the Pacific Breeze Easy Up Beach Tent XL.  The open front spans about 8 feet, allowing a few people to sit side-by-side out of the sun, wind, or rain.  At 47", the Easy Up tent stands a little shorter than the Under the Weather XL.  The large windows and open front, along with the solid canopy along the back, make the Pacific Breeze the more compelling warm weather option.  The instant canopy easily folds to a carrying weight of less than 7 pounds.  The waterproof floor also makes this tent ideal for a family day at the beach or a festival.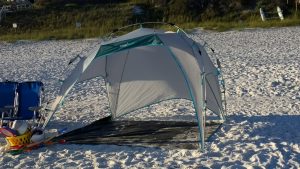 To maximize breeze and capacity, a sun shade may be your
best bet.  Sun shades spread a high quality fabric atop of four poles.  One top sun shade on Amazon is the Otentik Sun Shade.  This popular option comes in three different sizes and includes sands bags to weigh down the canopy.  The poles and sand bags allow this design of pop up canopy to be erected on any type of surface, from concrete to shallow water.  This tent style is perfect if you have a lot of kids to shade, or a lot of traffic in and out, like a track meet or tailgate.  Also, people love bringing their sun shade to the beach or park for its instant set up and ease.
Why to Buy a Personal Sports Pop Up Tent Pod
We have presented Mr. Pescovitz's intriguing new invention, and introduced a few of the other options available on Amazon.  There is truly a cheap pop up tent for every shopper and situation.  With these great options, you will have no trouble braving the elements this season, from frigid cold to scorching hot.  Also check out our review of waterproof outdoor blankets for additional shelter and comfort.  Having the right equipment makes it a lot easier to convince siblings and grandparents to come support your junior all-star from the sideline.  Like we always say, the best sporting parent is a prepared sporting parent.